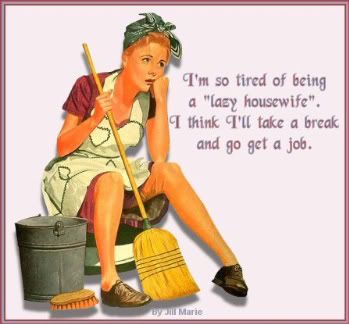 I'm having one of those days. I'm feeling harassed and unappreciated.
I guess we shouldn't expect to be appreciated as a stay at home mother. I don't expect Matilda to say "gee thanks Mummy!" but for the dishwasher to be emptied on occasion, the tub to be rinsed out even once, the vacuuming to be done from time to time or even the trash to be taken out without me having to ask WOULD BE HEAVEN!

I'm feeling very frustrated with this mess we call home. I never, ever get to stop. Matilda hasn't been very well lately so I have to change her diaper as soon as I think she's wet. She is in a phase where she tries to get away when I try to change her so I have to wrestle her to clean her up with cotton and water and rub a steroid cream into her bottom.
She's been waking in the middle of the night with tummy aches, or teething pain.
I'm exhausted.
I need help!
I've asked for help in every way I can think of. It doesn't seem to get me anywhere.
I am not a clean freak by any stretch of the imagination, but I like for things to be tidy, things haven't been tidy, let alone clean since my Mom left when Matilda was a week old.
According to Ledger.com "A stay-at-home mother is a housekeeper, a cook, a day-care center teacher, a facilities manager, a computer operator I, a van driver, a janitor, a psychologist, a laundry machine operator, a chief executive officer, a staff nurse, an event planner, a nutritionist, a logistics analyst, an interior designer, a bookkeeper, an administrative assistant, a plumber, a general maintenance worker and a groundskeeper. According to Salary.com, stay-at-home mothers work 94.7 hours per week."
It's no wonder that by night time, after the 1st time I've put Matilda to bed, I just can't face doing anything but sitting down.
Sorry friends, I'm just having a rough day.